"METAMORPHOSIS"  (OLUWA O!)
The Stage play which was an Adaptation of Franz kafka's book directed by Nick pelas was a success at the Leicester square theatre which showed from the 18th to the 23rd of feb 2014.
Meet the cast of the stay play and get a little more into the insight of the play.
THEODORA IBEKWE-OYEBADE "PRODUCER"
Theodora Ibekwe-Oyebade is a Nigerian Uk Based public relation expert, actress, movie producer and an Avid fun raiser for various charities. Amultiple Award winner.
She has featured in several movies including Heavy mama inLondon, Amina, shattered hearts, labo, heartless career, purity of heart, Mum; dad,;meet sam, Thebroken birde, Bride, Battered, Housewives and Girlfriends and Shameful Deceit of which she produced. Theodora is also joint producer of this.   
FACEBOOK: THEODORA NOLLYWOOD IBEKWE-OYEBADE
TWITTER: @THEODORAIBEKWE       
FEYI BABBLOLA PLAYED "THE NARRATOR"
Feyi began her training at the Anna scher theatre school. she has recently worked on hollywood blockbusters such as World War Z and The World's End. feyi's theatre credits also include her as doreen lawrence in the colour of justice at the Arcola Theatre. feyi can be seen in the lastest foxy Bingo Commercial.
FEYI: My take on the play Metamorphosis is, it is a British story, told in an African way with an African twist. The way its taking it to an African setting makes the audience to be involved.
SOCIAL NETWORK
FACEBOOK: FEYI BABALOLA
TWITTER: @FEYIBABALOLA
 SHAKA DAVID PLAYED "ABENI WASIRI"
Shaka started her career as a young performer with icognito Youth Theatre, before training with footlights Musical Theatre school where she performed in many staged musicals including "ANNIE", "GYPSY", "THE SECRET GARDEN" and Broadway themed Musical concerts.
Shaka professional acting experience spans from her first stage play as "Queen jacosta" in "THE TRAGEDY OF ODEDIPUS" IN 2002. Her Television experience has included roles in EASTENDERS for the BBC and the  television film "BLACKOUT" for channel 4. shaka is also an experienced television presenter, having had her own talk show for 3years on sky TV and have been featured in many commercials for popular brand including HALIFAX, ARGOS, 118118 and WALKERS. Her full credit can be seen on spotlight ViewPin: 0618-8974-9317
SHAKA: My take on the Metamorphosis is the adaptation is very relatable being that is it based on an african setting and after i got the part i had to get myself ready and prep for it by sleeping on the sofa for weeks so i can get my body to move to the part well.
FACEBOOK: NNEKA FAVOURED SHAKA
TWITTER: @SHAKADAVIS
AMA JOSEPH PLAYED "YETUNDE"
Ama has been working professionally as an actress and presenter since the age of 16. she studied Drama and Theatre studiesat school and Devisd Drama and public speaking at LAMDA. she has a strong pasion for performing arts. she has performed at the Millenium Dome and the Hammersmith Apollo. she has worked with the BBC and Endemol in presenting and voiceovers and has been in numerous commercials and music video. her recent project is the critically acclaimed Gospel play "Tell Hell I Ain't Coming".
AMA: My take on the metamorphosis is the way it affect african family when you have a relative with illness/disability or mental illness it is difficult for anyone to cope or deal with or even understand and thats what this play showcased.
FACEBOOK: BETTY AMUAH
AMIE BUHARI PLAYED "AYO THE BOSS"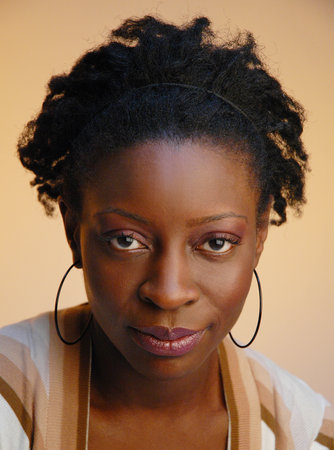 Amie is a trained Actress. she studied Acting for film and television at Mountview Academy of Arts. she has extensive training in meinster technique both here and in America. Amie is a versatile actress, effortlessly crossing genres such as comedy to Greek Tragedies, historical pieces, children's theatre, musicals and physical Theatre.
Amie has featured in a number of adverts, short films, music videos and documentaries. Her other skills include singing, playwriting, drumming and storytelling. she just finished her first screenplay and is a regular columnist.
AMIE: My take on the metamorphosis is that it is an imaginative adaptation. even tho it was twisted to reflect culture, it still stays true to the story. my character went from being confident, strong and very bossy to being open and breaking down due to the situation. it is open for discussion and its stimulate the audience watching.
FACEBOOK: AMIE BUHARI
TWITTER: @MSAMIEB
MAOTA FODAY PLAYED "ABEFE"
Maota has a Degree in Drama, Theatre and performance studies from Roehampton University. she went on to study Drama a identity Drama school and kingdom school of Arts. she has performed at the cockpit Theatre and Barons court and sharred in various music videos.
Maota is currently teaching Drama and Dance under Alluminae Performing Arts and is an accomplished chereographer, skilled in many dance disciplines.
MAOTA: My take on Metamorphosis is it is about family struggle during illmess and disability of a loved one. For me i had to go through alot of emotion in a short space to pull this part off as i am not tht type of a person but overall it was a very good adaption and a great version told of the story. And the audience reaction helps aswell to gear you up and keep in the character.
FACEBOOK: MAOTA FODAY
TWITTER: MAO_STAR87
Metamorphosis (OLUWA 0!) will be coming to the big stage soon. if you missed the play. we will keep you updated as to where and when. for contact, booking, to find out more about these talented cast check them out on their social medium to get more info on there work.
Written by: Gold ola
Source: Metamorphosis (stage play)
Please follow and like us: