So what is the story between these guys. This aint really beef but more like a rant or a very open and public humiliating message from comedian, host and OAP Lolo of Wazobia FM towards Princess comedian. We dont really know what went down between them or how it started, but Lolo is defo voicing out her opinion of Madam Princess Comedy works and how she openly feels about it.
She took to instagram to express how she feels about princess's comedy act on stage and how it is clearly affecting her. Here is what she had to say!!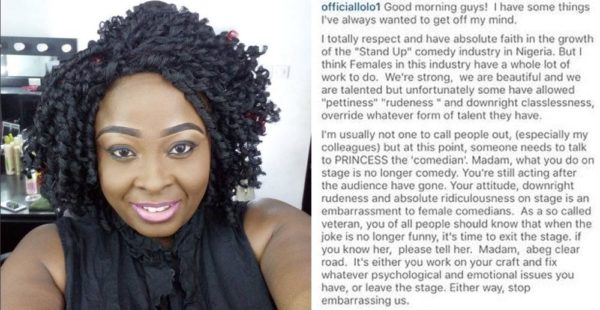 "I totally respect and have absolute faith in the growth of the "Stand Up" comedy industry in Nigeria. But I think Females in this industry have a whole lot of work to do. We're strong, we are beautiful and we are talented but unfortunately some have allowed "pettiness" "rudeness " and downright classlessness, override whatever form of talent they have" 
I'm usually not one to call people out, (especially my colleagues) but at this point; someone needs to talk to PRINCESS the 'comedian'. Madam, what you do on stage is no longer comedy. You're still acting after the audiences have gone. Your attitude, downright rudeness and absolute ridiculousness on stage is an embarrassment to female comedians." As a so called veteran, you of all people should know that when the joke is no longer funny, it's time to exit the stage. if you know her, please tell her. Madam, abeg clear road. It's either you work on your craft and fix whatever psychological and emotional issues you have, or leave the stage. Either way, stop embarrassing us"
She wrote all of these on her Instagram page. I mean there must be an inside drama or tension there to publicly blast someone like this. Hopefully madam princess will handle this well and it does not become another World War III.
What are your thought on this. Do you think she was wrote to address her like this on social media even if they had issues.
Written by: Gold Ola
~~Goldiva~~
Source: Naij.com